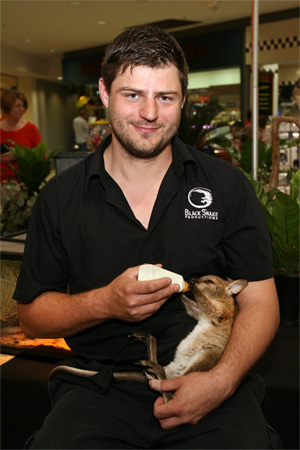 Michael Alexander
G'day,
My name is Michael Alexander and I am a wildlife educator and the founder of Black Snake Productions. We are a wildlife education group dedicated to conservation of Australia's amazing wildlife through fun and interactive education.
Black Snake Productions was founded in 2006 after many years travelling around Australia teaching wildlife education and seeing first hand habitats and species disappearing I saw a need for a more hands on approach to conservation. With Black Snake Productions I am able to fulfil a passion for wildlife conservation that has always driven me to work with the amazing animals found throughout Australia.
This passion started when as a child I would find garden skunks, tree frogs and blue tongue lizards in the garden and watch micro-bats and possums from my bedroom window in the evening. The constant desire to learn more about our wildlife led me to seeking out some of the best reptile and wildlife experts in Victoria to mentor me through my high school years.
Continuing with this drive to learn I started volunteering at Healesvile Sanctuary completing over 2000 hours of work over a number of years and then going on to complete studies in animal care and horticulture. This experience led me to work for the Australian Reptile Park in the role of traveling wildlife educator for a number of years and then on to Melbourne zoo as a zoo keeper.
Now our private zoo is home to almost 300 native animals allowing for wildlife diversity in the presentations few can match. We also focus on some unique breeding programs of some of Australia's vanishing wildlifesuch as the elusive tiger quolls, magical masked owls, noisy growling grass frogs and beautiful painted turtles.
My goal is to bring these amazing animals to you and share my passion for Australasia wildlife and to raise awareness to the plight of so many of them. We live in the lucky country and have some of the most diverse and unique flora and fauna found anywhere in the world, though Black Snake Productions you will get to meet some of these amazing animals up close!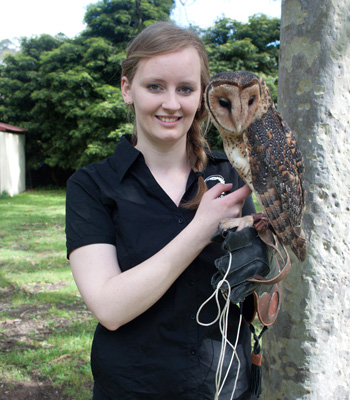 Jazmin Sievewrright
Jazmin has always had a natural affinity with animals; she was born with a love for all animals and for as long as she can remember she has always wanted to work with them.
As Jazmin got older she found her interest in animals didn't change, so when she left school she studied and completed a Certificate IV in Companion Animal Studies. Her real passion though is with captive animals, and so after starting work at Black Snake Productions she began her Certificate III in Captive Animal Studies. She loves working as a wildlife demonstrator and keeper, because not only does she get to work with amazing Australian wildlife, she gets to raise awareness about the importance of conservation and living sustainably. She also loves working with wildlife because it is so interesting and she learns something new every time she comes to work.
Her favourite animals are big cats, and she would love to work with them one day. Jazmin is very passionate about animal conservation and has a big interest in animal training and hopes to be able to work in these areas for the rest of her life.