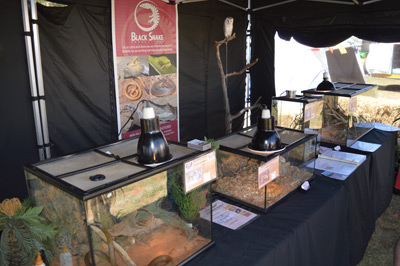 With over 10 years experience in doing wildlife displays all over Australia, we at Black Snake Productions are guaranteed to provide an entertaining, exciting and educational wildlife show at your next event.
We are experienced wildlife demonstrators who offer a variety of displays, huge range of animals and wealth of information.
Our fun and interactive wildlife displays allow the audience to hold and touch our hand tamed birds, marsupials, reptiles and many other animals.
We also do venomous snake shows using snake pits and a wide range of local and interstate venomous snakes. All of our venomous snakes remain in the pit at all times making our talks very safe as well as educational.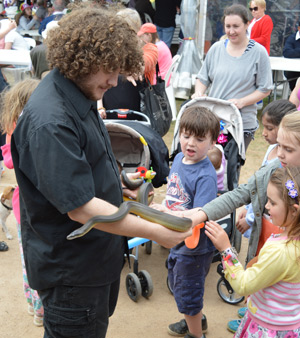 Agricultural fairs and field days
Black snake productions has been traveling around Victoria and South Australia for a decade bringing our range of animals and a wealth of information to thousands of people across the rural areas of southern Australia.
The very popular venomous snake safety pit and talks allow farmers to learn how to safely and effectively deal with venomous snakes on the property and how important they are to Australia's agricultural industry. Our mobile zoo displays are also a big hit with families, allowing them to get up close and meet crocodiles, pythons, wallabies, owls and more.
We are willing to travel anywhere in Victoria and south Australia and can add a unique, fun and educational aspect to any show or field day!
Contact us now for a quote to suit your budget
Testimonial from Bass Coast Agricultural show, Wonthaggi.
"Having had Michael from Black Snake Productions attend our annual event for several years we have come to appreciate the professional and caring way that he presents his interactive display – a great crowd puller. Always first is the care of his specimens and educating the general public re their wonderful uniqueness."
"We look forward to having them at shows into the future and highly recommend Black Snake Productions."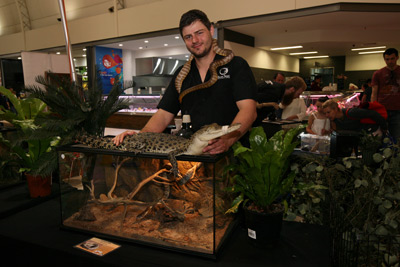 Shopping centre displays and shows
Crocodiles In front of Coles or Wallabies in front of Woolworths!
For school holidays, special events or even just weekends Black Snake Productions can provide our fun and interactive mobile zoo to draw people into your centre.
With three fun and educational talks during the day and a range of display options to choose from our wildlife displays are a fun, interactive and more educational option compared to farm yard's or face painting. Each presentation is done by our wildlife experts on some of Australia's most amazing and rarely seen animals, focusing on a number of different topics from ecology, conservation, backyard biodiversity and more the presentations are exciting and educational.
Each display will have a large range of animals for the public to touch, hold and learn about and will get the opportunity to have a photography season with crocodiles, pythons and more!
Choose from a number of displays including Endangered species, Aquatic animals, Mini-beasts, Australian wildlife, Amazing Australian wildlife or design a display to suit your needs.
Contact us now for a quote to suit your budget
Testimonial from Centro Warringal, Heidelberg, Vic
"Black Snake Productions provided an excellent school holiday program for Centro Warringal. The children (and adults!) were thoroughly engaged with the show and enjoyed being able to touch and hold the reptiles during the presentation. Having the reptiles on display in between presentations was a great bonus. Overall we received nothing but positive feedback about Black Snake Productions."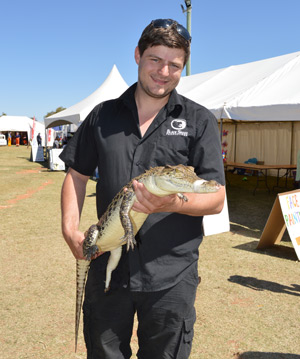 Expo's and festivals
At 4X4 Expos, Town festivals, Pet Expo's and School fairs around Melbourne and Victoria you will see Black Snake Production's naturalistic displays, live stage shows and public wildlife interaction. No other mobile zoo in Victoria can match our diversity in show options and wildlife as we offer all types of talks and public wildlife interaction.
Why not have roving wildlife experts walking around your event with a range of friendly and well-handled pythons, crocodiles, goannas, parrots, birds of prey and marsupials.
A naturalistic display focusing on local fauna, mini-beasts or a range of other topics could also be a great draw card or the thrilling snake pit with talks on snake safety, first aid and local species.
Stage shows for crowds for ten or a thousand are also a thrilling, educational and exciting edition for any large or even small event. With energetic and lively presenters we will perform with a range of amazing animals on stage while educating about the topic of choice.
Whatever type of show, display or talk you choose for your event Black Snake Productions is sure to entertain and educate the crowd with our highly experienced wildlife experts, huge range of animals and professionalism. With over a decade in wildlife education the team at Black Snake Productions experience shines through.
Contact us now for a quote to suit your budget
Testimonial from Tesselaar Tulip Festival, Silvan, Vic
"It was great to have you participate in our Tulip Festival again this year. Black Snake Production's stage talks bring enjoyment, entertainment and education to our school holiday fun along with the importance of conservation for future generations, from a team which is clearly passionate about what they do. Congratulations on a great show and thank you for sharing your wealth of knowledge on all things scaly & furry! We look forward to seeing you again at future festivals."
Wendy Barnes
PR / Media
Tesselaar Tulip Festival
www.tulipfestival.com.au